Boone's Blooms: Prepping for a wedding
The process is more involved than you might think
It was Monday. The wedding was on Friday. I could get everything ready by then. As I got off the plane from Charleston, SC to Rochester, NY, I was excited and nervous to work on the flowers for my niece's wedding. Lauren is the oldest of my sister's kids and got engaged under the arbor where my parents wed on Chautauqua Lake. It seemed such a fitting occasion that my niece's wedding should be the first major wedding using Boone's Blooms floral services.
Timing is everything. Well that, and quality. And quantity. My sister asked me later how many buckets of flowers I had total. When I told her thirty, we realized we almost had more buckets of flowers than guests attending the wedding. Covid-19 had reduced the guest list to thirty-six people.
As I walked to the baggage claim, all sorts of questions swam in my head. Will the flowers have arrived on time? Did all my vessels arrive? Did my suitcase make it? Would I have enough time to finish the aggressive display of florals in 3 days?
Worried about the logistics of designing flowers for such an important day, months before I reached out to Kittelberger Florists in Webster, NY to see if they would assist with sourcing my flowers. They were eager to help. They special ordered all my flowers from all over the world: high quality, fresh, gorgeous blooms. The only obstacle was fitting them all in my rental car!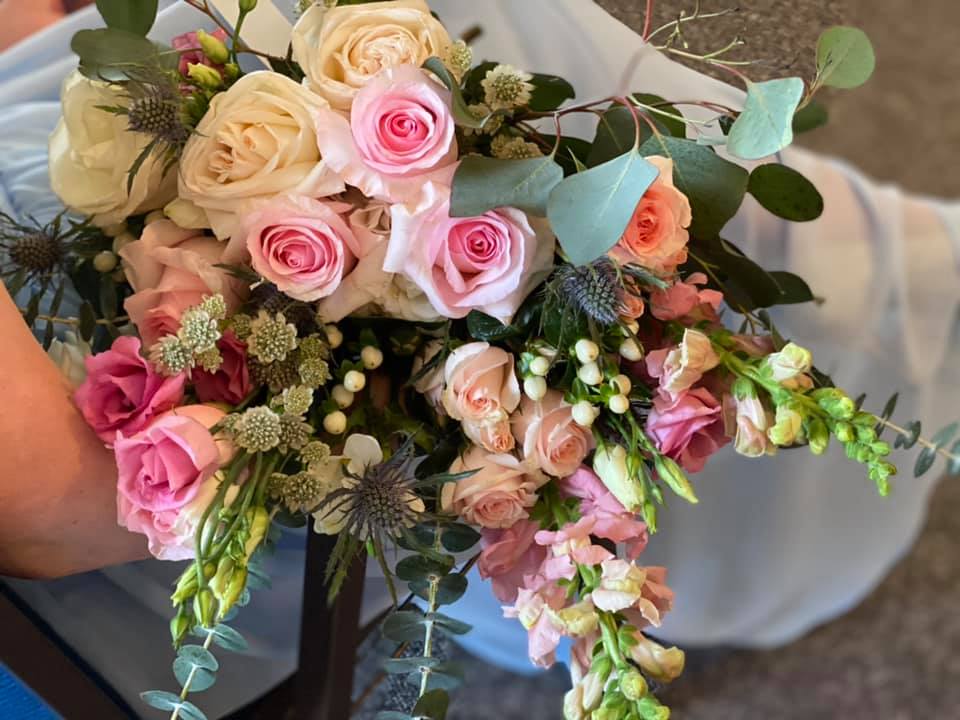 Bridesmaid bouquet
With flower arrival confirmed, flower design was my next challenge.
Flower design is actually a messy process. You need plenty of room to work. A wonderful friend of my sister came to the rescue. Phelps Family Farm grows beautiful blooms, but a March wedding with the snow swirling didn't allow us to use her flowers. But she opened her home and converted her house into a design studio for the week. She even allowed me to use her walk in cooler to keep everything fresh. She and her friend Gwyn made an outstanding team and dedicated hours to help me make the perfect floral arrangements. (If you're in the area, be sure to order a bouquet or get a subscription. Her work is amazing! You can email her at backyardblossomspff@gmail.com or visit her Facebook page Phelps Family Farm.)
From my niece's inspiration board, the design for her bouquet was born. The wedding colors were white, light pink, and green. Whites with blush, flowing and whimsical. That was the goal, and I totally delivered. The bouquet matched her personality and the lines of her flowing dress. This extra-large arrangement complimented her perfectly on her special day. The bridesmaids bouquets overflowed with roses in both white and blush with accents of blue to compliment the bridesmaids dresses.
Lauren had an arch built specifically for the wedding by a talented neighbor and friend. This 8-foot tall arch of wood was gorgeous and required a flower heavy accent to fill it. The photographer, Joe of Joe Hy photography, noted that he couldn't believe it was all made of fresh blooms, and that was something special.
Table and church arrangements, the enormous sweetheart table display and the petals for the aisle were complete and ready for placement. I breathed a major sigh of relief, super happy with the results.
How breathtaking my niece looked walking down the aisle with her Dad, her bouquet artistically displaced, her groom beaming under the flower arch. The tears of joy started flowing….happiness, pride, and exhaustion. Cheers to the happy couple! I appreciate the trust they put in me for such an important day! I can't wait to do my next wedding.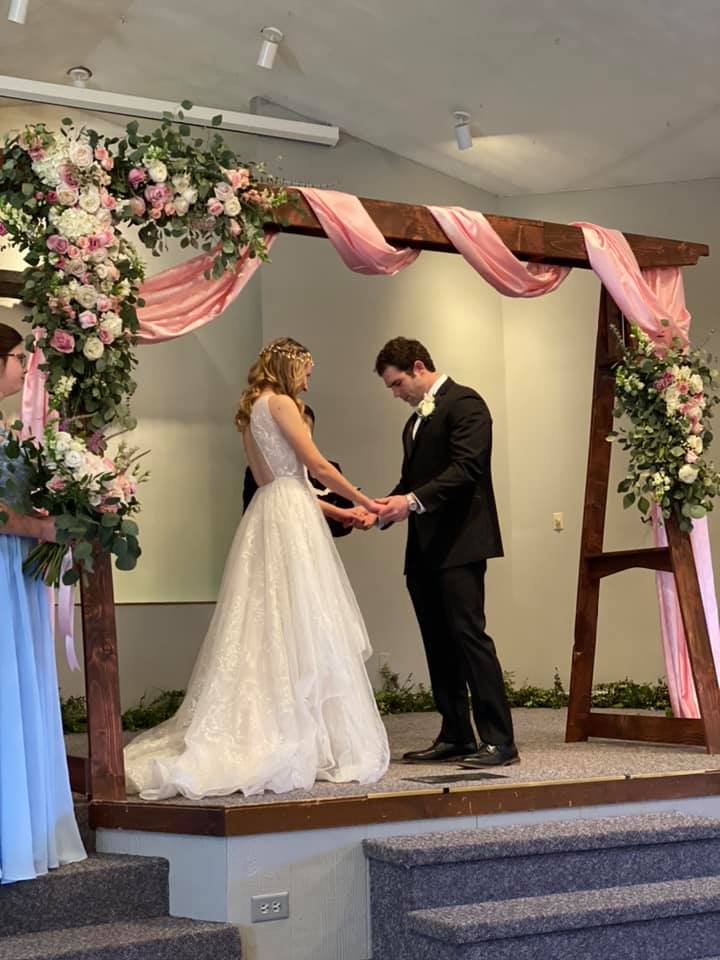 Under the archway wedding vows
CLICK HERE TO SEE OUR LATEST ARRANGEMENTS